The Girl Who Wanted To Walk The Ramp...
01:32
This post won the blogging contest in association with TRESemme` and Indiblogger :)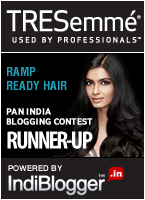 There lived a girl who wanted to walk the ramp,
She dreamed of hair that would make her a champ.
She grew up watching kites touch the sky,
She knew one day she would reach that high...
She struggled to become a model, she knew she could,
She was beautiful but her hair were not so good.
She tried out shampoos from every range,
Her hair receded and refused to change.
When she had lost hope and was close to tears,
The Indiblogger trending topic brought her cheers.
TRESemme` was the answer to her never-ending quest,
She applied for the sample and forgot the rest.
The luxurious and smooth liquid enchanted her,
She rinsed the shampoo and used conditioner.
TRESemme` cherished and nourished her hair
Now her tresses were shiny smooth and fair
She styled her hair and was ramp ready,
When they saw her they couldn't stand steady.
Fiddling with her beautiful hair with scamp,
Head held high, she walked the ramp.
She was greeted with adulation and applause,
For which TRESemme` was the supreme cause...
If you too crave for salon style hair,
Use TRESemme` it'll serve you fair............!!!
Want hair like Diana Penty?Then what are you waiting for?
Watch their video and choose your own Ramp ready hair:
TRESemme` India Youtube.
This post is a part of the
TRESemme` Ramp ready hair
contest held at Indiblogger.