Modern Healthcare saved him from facing another horror!
01:11
This post won the Blogging contest in association with Apollo hospitals and Indiblogger. :)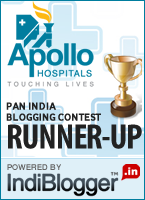 "Really Arnab, i can't believe it! Me a mother! Oh God i am so happy! Arnab what will we name her?Come on now i know it's gonna be a girl!"

It was as though she was present with her in that very hospital ward. The words she had said twenty five years back flowed back to him as though it was just yesterday she had said them.

As Arnab, a 44 year old engineer, with greying hair,sat on the bench of the hospital ward, pondering on his thoughts, in his own world, a tear trickled down his left eye. He quickly raised a hand to wipe it -breaking down in front of so many people was not really a good idea!

1988, Bangalore, India.

It was a rainy day. Anjali's delivery date was due today. Arnab had rented a taxi to take Anjali to the hospital which was located at the far end of their district. Rain had increased traffic on the road. While the driver drove the taxi, trying his best to beat the traffic, Anjali chattered on.

"Mr. Arnab Bagchi, you are going to become a father of an angel in a few hours. How do you feel han? Ha ha ha ha ha!"

she laughed. holding her husband's hand possessively. Arnab bent his head and pecked a light kiss on her forehead

"of course i feel 'out of the world' dear! Thank you so much!"

He smiled.

"Really Arnab, i can't believe it! Me a mother! Oh God i am so happy! Arnab what will we name her?Come on now i know it's gonna be a girl!"

.............

and they talked about everything they could until at last they reached the "mother care" clinic.

They were walking towards the operation room, situated in the far end of the hospital when suddenly Anjali fainted and fell on the hospital floor. The people surrounding them immediately came to Arnab's rescue. It was happening even before Aranab realized that it was actually happening. The nurse helped the security guards to lift Anjali on a stretcher.Trying to loosen Arnab's grip on Anjali's hand was the toughest job. The doctors arrived and ordered her to be taken to the emergency ward. For forty minutes he stood out of the operation theater without moving an inch, dreading the worst. A nurse came out of the room, he tried reading her expression but her blank face wouldn't give anything away.

"She...she is asking for you" she said with the smallest of whisper. ".....and you have been blessed with a baby girl" her tone was icy.

He entered the operation theater. There lay the love of his life, the woman who had made his life complete, who had always made him smile,laugh....today she was not smiling,not laughing!

He held her hand and stared at her tired eyes. She managed to smile....but even her smile was painful-heartbreaking!

"See.. i t..o.l.d youu, it'll b..e a a g..i.r.l..." she smiled again and breathed her last. His world was drowning in front of him, he wanted to believe that this was a dream...

a bad dream. She's just asleep

he tried to convince himself. But when the doctor checked her pulse and declared her dead, he couldn't stand it. A small cry of a baby disturbed his thoughts.

No i don't want to see her! She has murdered her mother-my wife...my life....

and he ran out of the hospital, to a lonely street where no one would disturb him. He cried, sobbed, moaned,wailed-God had cheated him. He had blessed him with a child but it had cost him a lot..... He had given him a child but had taken back Anjali in return.

After two days he finally came back to his senses and visited the hospital to take what was his...his last hope....

The doctors informed him that the baby's grandparents had already discharged the baby and that his wife's body was in the postmortem room.

"Her blood pressure had increased. If we could have just known that......" The doctor told him, pitying Arnab.

From then on, Arnab had always hated that hospital, he knew deep down that this was a stupid thing to do as fate is no one's slave, but his heart just wouldn't allow him to believe it.

He named his daughter after his wife 'Anjali'. He loved her like none and brought her up like an angel.

2013, Bangalore, India.

Today, twenty five years had passed by. Mittal and Anjali,Arnab's daughter were married since two years. It was the first delivery of Anjali.

Time had made him forget the old days, but today when he sat in Apollo hospital,one of the most renowned hospitals of Bangalore, he dreaded the fact that he would loose someone again..... loose his daughter Anjali.

Apollo Hospitals had consistently led game-changing developments in healthcare.It was famous for it's innovative developments in healthcare. When Anjali had got pregnant, this was the only hospital Arnab could think about.

Arnab opened his wallet and looked at the picture of his late wife.

She looks so beautiful even today

He reminded himself for the hundredth time...

...........

"Arnabda!"

The voice broke his reverie and he looked up at his son in law whose face was full of excitement.

"Hey Arnabda, guess what, they have started the operation. I saw Dr.Pramila enter the operation room. I just hope it's not hard on Anjali. Met her before the Doctor came, God! she was so nervous!" A happy Mittal told his father in law.

"Let's eat something until then, i am starving." Arnab spoke at last.

After four hours:

Arnab held the baby boy in his hands, his eyes glistening with joy. "He has your mother's eyes" he smiled and told his daughter who lay on the bed smiling and looking at his father with love and affection.

His world was much better now...thanks to modern healthcare, he didn't loose his daughter too!

......................
In the past days, many people have lost their loved ones due to improper medical care. Like Anjali, hundreds of women have lost their lives while giving birth to children. By preventing this from happening again, Modern healthcare has acted as a medicine to many disturbed souls. This way Modern healthcare has touched lives!

This post is inspired by a true story which i have witnessed in my own family.
This post is a part of the
Apollo hospitals
- Modern health care touching lives contest held at
Indiblogger
.