This or That Beauty Tag
05:47
My bestie, Megha Saraf who blogs at
'Makeup and beauty treasure'
tagged me for the 'This or That beauty tag. For those of you who aren't aware what this is:
They are a set of questions which you have to answer. The name says it all-'this or that' :)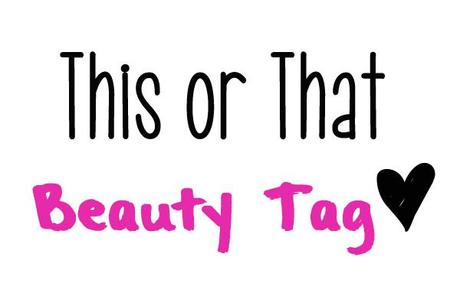 Now let's Gear up for the questionnaire :D
Makeup:
• Blush or Bronzer- Anytime Blush! Lately I have got cheeks and I think a tint of Blush suits them best!
• Lipgloss or Lipstick- I often stay away from lipsticks, so it's always Lipglosses! Loads of them in every imaginable color!
• Eyeliner or Mascara- eye liner! My Mascara's always dry out after I have applied them for one single occasion.
• Foundation or Concealer- Foundation, though, even that's very rare...
• Neutral or Colour Eyeshadows- Neutrals always boost my confidence!
• Pressed or Loose Eyeshadows- Pressed eye shadows. The simpler, the better!
• Brushes or Sponges- Brush for blush and sponge for compact.

Nails:
• OPI or China Glaze- None. I don't apply Nail polishes.
• Long or Short- Short,sweet and simple!
• Acrylic or Natural- Natural.Natural.Natural.
• Brights or darks - Brights! (on other's nails :P)
• Flower or no flower- Flowers( " )

Body:
• Perfume or Body Splash- Body spray.Currently loving 'Yardley London' and 'show stopper'!
• Lotion or Body Butter- Body butter. The whole range of 'the Body shop!'
• Body wash or Soap- Umm...depends on my mood..
• Lush or other Bath Company- Soulflower. They have lovely products.

Fashion:
• Jeans or Sweat Pants- None.
• Long sleeves or Short- Long in winters and short in summers
• Dresses or skirts- Dresses. Pretty, irresistible dresses!
• Stripes or Plaids- None. I prefer girly prints.
• Flip-flops or Sandals- When I am not in my Stilettos,Flip-flops!
• Studs or Dangly earings- Dangly ear ring! Almost 1/4th of my wardrobe is loaded with them.
• Necklace or Bracelets- Necklaces on occasions and bracelets on casual outings, otherwise,I prefer keeping my hands free of anything.
• Heels or Flats- Heels! Sky High, Gorgeous Pumps!
• Cowboy Boots Or Riding Boots -Neither.
• Jacket Or Hoodie – Jackets! Cute girly jackets!
• Forever 21 Or Charlotte Russe – Forever 21, though, I haven't tried Charlotte yet!
• Saks 5th Or Nordstrom – none!

Hair:
• Curly Or Straight – Depends on my mood.
• Bun Or Ponytail – I tried Bun once when I was fourteen, trust me! I looked like an aunty. :/ So, it's always open hair or Pony tail! \m/
• Bobby Pins Or Butterfly Clips – Butterfly clips. They are Girly and fun!
• Hair Spray Or Gel – Tried none. I try staying away from chemicals.
• Long Or Short – Long in winters and short in summers.
Random:
• Rain Or Shine –Rain. Rain. Rain. Loads and Loads of it. \m/ *Happy dance*
• Summer Or Winter – Summer for Ice-creams, winter for pakodas. In short-Both!
• Fall Or Spring - Spring...Love the beauty of Spring and especially in Bangalore, it's early heaven!
• Chocolate Or Vanilla – Chocolate. Chocolate.chocolate...and when I am fed up of eating chocolate, it's Vanilla.
• East Coast Or West Coast - A twist of both. ;)
As my blog's not narrowed towards beauty, I don't socialize with many beauty bloggers but there are a few who are darn close to my heart! *Megha, Shanaya and Heena, Ishara aap logon ki taraf hai :) :P*
So, I am tagging:
Heena Verma of
'Vanity case box
'
Shanaya S of
'Little miss Sinner'
Email: bushrablue01@gmail.com