Eliminating classroom hunger! #AkshayaPatra
02:21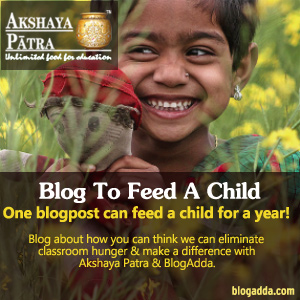 My last visit to my Grandparent's place was very eventful and rejuvenating. My village, which is located close to the suburbs of the beautiful city of Lucknow is far from innovation and you can still find hundreds of houses which are alien to electricity.
Is the Government doing anything? Well yes, but what they are doing is not enough! There are still thousands of children born in these lands who are raised uneducated.
Thankfully, due to some recent measures by the Government of India, the lives of these children are improving. One of the best methods adopted by the Government to educate the Indian youth, the Akshaya Patra. is achieving milestones!
My Grandma used to tell me that when the Government launched the 'mid day meal' facility, the amount of response from the parents to educate their children was huge. Parents would send their children to schools with the hope that they'll at least get a free nutritious meal!
In my opinion, the 'mid-day meal' scheme was the best initiative proposed by the Government to attract children to school!
I myself have seen hundreds of children who suffer from malnutrition because they don't get to eat sufficient healthy meals.
Classroom hunger in India is a very sorry condition! It kills to learn that when you are stuffing yourself up with tons of food, there are millions of poor children who go hungry days together.
In my village, when a poor boy reaches the age of 13-15 he is forced to put an end to his education and start working in the farms or with his father to support the family. Many a homeless kids quit education to earn bread, this is the main reason why a major population of India is still illiterate!
We as citizens of India need to take this matter into consideration and do what we can to solve it!
Things which can be done to eliminate Classroom hunger:
1)
Donate
:
Thanks to the Internet, donating money to the needy has become as easy as never before! There are many websites who facilitate the donations and who can be trusted in doing the job!
2)Taking active part and helping various organization who support this cause in every possible way.
3)Spreading the word through social media! Today, social media has become a real boon and what can be a more better and efficient medium than to spread the word far and wide!
The above is what I thought of, do
you
have any ideas? Do share and do your bit now! :D
Lotsa Love,
Remember feeding an innocent hungry stomach is truly divine,
~Bushra