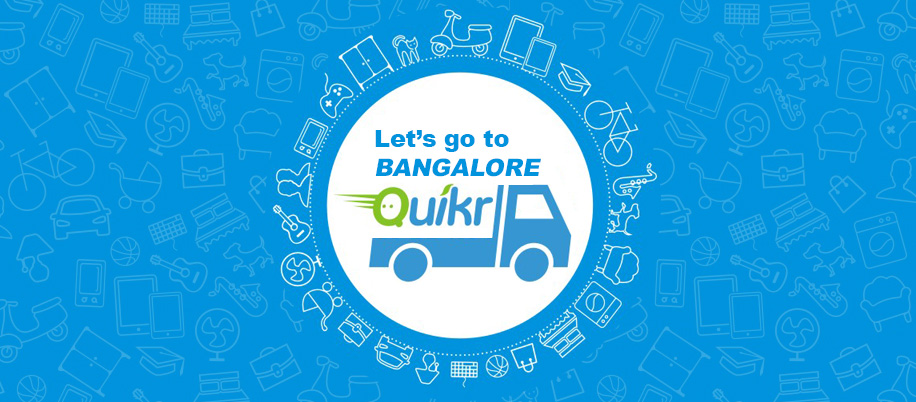 Being born and brought up in Bangalore, I have been deeply attached to this place. Everything about this beautiful city is bewitching especially the climate! Bangalore has been famed to have one of the best climates in the world. The person who comes here once, falls in love with it and stays here. I myself have seen hundreds of my friends and their relatives relocating to Bangalore. What with the constantly growing IT regions, the employment opportunities in Bangalore are simply increasing and so are the people residing in this beautiful city!
Gone are the days when you you could find unoccupied lands on every other block. Now every nook and corner has been replaced by sky scrapers and six storey bungalows. Spending just one day here will make you fall in love with it.
Coming to the relocating part, there are many things a person has to consider. Shifting to Bangalore might sound like a piece of cake but no Sir! It's not that easy, not until you have the Qukir app in your phone!!
Bangalore.quikr.com
is a wonderful website which can help make your relocating to Bangalore easier and more fun! It has several categories namely, Cars and bikes, Gadgets, Electronics, Real estate, Matrimony, home and lifestyle etc. Every category is a blessing where you can find and connect with sellers of your interest in person!
Relocating requires shifting to a new home and hunting a home today in Bangalore is like hunting for a lost Airplane in an Ocean. But this section of Quikr solves that problem for you by providing hundreds of available choices in hundred different forms!
I am well aware of what difficulties re-locators face. Have seen many of my friends struggling to find a good place to settle, only if Quikr was available then! But better now than never right?!
Next section of Quikr you should visit is the Home and lifestyle one. Here you can find ads for all your home needs and anything from jewelry to paintings and decoratives can be found here.
Next section you should visit is the electronics one. Any house is incomplete without the right appliances and machines. It's funny how electronics have enslaved us to a height that we can't imagine life without them now! This section of ads on electronics will answer all your needs of electronics and house-ware item!
Quikr also has huge section of ads for cars and bikes. Here you can find thousands of people willing to sell off their vehicles and even new showrooms selling away vehicles on discounted rates.
Traffic in Bangalore has gone to unimaginable heights! That's the only thing which I find annoying about this place. To travel a simple distance it takes ages.