Anant Ambani's Stunning Transformation
03:42
After Adnan Sami and Bhumi Padnekar, guess who is in the news now for their weight loss story? Anant Ambani!
If you are an IPL person, you might have already witnessed this for yourself. The 21 year old grand son of teh legend Dhirubai Ambani, Aanat Ambani has left the world speechless with his amazing and highly unexpected transformation.
Anant Ambani has put all those body shamers who joked about his body weight to shame by recently making an appearance at the IPL 2016,all trimmed and new. While I still can't beleive my eyes, all I can say is people like him are truly inspiring and made of steel! #Respect
I first learnt about his stunning transformation through a Twitter joke:
His weight loss story went viral when he showed up at the IPL and posed with cricket stars Sachin and Dhoni and other celebrities like Salman Khan.
Mahendra Singh Dhoni's tweet praising the lad:
Wish u a very happy birthday Anant.u gave the best gift to urself by losing over 100kg.discipline and determination

pic.twitter.com/0BNEl0drlH

— Mahendra Singh Dhoni (@msdhoni) April 10, 2016
Here's what Salman Khan tweeted:
So happy to see Anant Ambani,lots of respect n sooo happy fr him.Takes a lot of willpower to loose 108kgs in 18mnths

pic.twitter.com/Rfd6pgAeEn

— Salman Khan (@BeingSalmanKhan) April 10, 2016
Everyone from cricketers to Bollywood celebrities are applauding this young man.
Anant Ambani's mother, Nita Ambani says that as a kid, Anant had asthama, the medications for which led to the excess weight gain.
I really appreciate the will power of this man and the striking perseverance he showed to achieve his goal! I am so inspired by his story that I have made a vow to never miss workout again! ^_^ *pinky promise*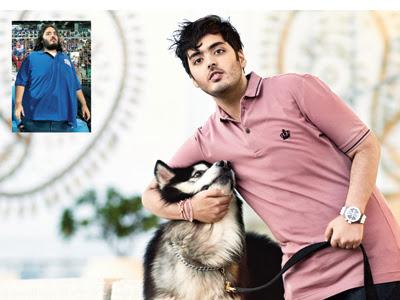 Anant Ambani, we are proud of you! *claps*